Enrollstation e4

Biometric Enrollment Station
Key Features
· 4 Biometric Enroll Supports: Face, Iris, Palm Vein, Fingerprint (RFID optional)
· User-friendly Registration UX Guide
· Precise and Accurate Template Extraction by 3 Step Identification Algorithm
· Plug-and-Play Installation
· Online software upgrade via CruAMS(CrucialTrak Access Management System)
Product View
Key Technologies
· Object Tracking Sensor Unit
· Sliding & Rotating Fingerprint Guide
· IEC-62471, UL60950-1, EN60950-1 Safety
· External RFID Card Optional Supports Mifare, ISO, ICODE
· Ethernet, USB2.0 Communication
· Sound and Visual Verification Support
Biometric Technologies
Face
CrucialTrak's unique facial recognition technology presents the fastest, most advanced and convenient experience for every users. Facial Images are captured in most accurate 3D patterns from widest angles of access paths.
– Automated face tracking module captures face with wide range of heights (heights range from 120cm to 220cm/3'11" to 7'2")
– Precisely captures only targeted image (Automatically eliminates other background face images)
– Real-time facial identification under 0.001 second
– Low light level counter-light support
Fingerprint
Absolute touchless UX with capturing 30 micro-fingerprint images in every 1 sec, CrucialTrak's unique fingerprint recognition system provides the most assured and fastest authentication environment.
– Hygienic environment through touchless UX
– Captures 4 different fingerprints at the same time
– User Friendly Interface
– Organic 3D recognition and fastest 30 shots/sec matching algorithm
Iris
World's first auto-tracking mechanism with minimized user's MTAE (Meantime Attempting Effort).
– Auto Iris Tracking minimizes user's effort
– Large caliber Zoom Autofocus Control — Long distance identification
– Best image selection algorithm
– Satisfies IEC-62471 Safety Standard
– PWM radiation intensity control
– Partial Iris donut recognition
Palm Vein
CrucialTrak's Full Touchless palm vein recognition, simultaneously interlocked with fingerprint recognition, provides the fastest learning, most accurate, and highly comfortable identification experience, with the design built by Bio-Mechanism UX analysis.
– Advanced matching algorithms ensure high level of accuracy
– Contactless user interface eliminates hygiene concerns
– Less than 0.00001% false acceptance rate
Application
BACS™ (Biometric Access Control System) can be applied from critical infrastructures, where highest level of security is required, to small size businesses which have lower security requirements but still want to approve on unique authentication abilities.
Key Specification
Model Name

Enroll Station E4

Display

24" LCD Display

Color

Champagne Gold, Zinc White, Abyss Black

All 4 Biometric Enrollment

Touchless Fingerprint, Face, Iris & Palm Vein

Dimension (mm / in)

Main Body 399(W) x 199(D) x 569(H) / 15.7(W) x 7.8(D) x 22.4(H)




Sub Module 399(W) x 79(D) x 569(H) / 15.7(W) x 7.8(D) x 3.1(H)

(mm / in)

Weight(kg / lb)

15 / 33.0 (Including monitor)

(kg / lb)

Lighting

2 x white LED unit, 2 x IR lighting unit

Assistant Mechanism

Sliding & Spinning fingerprint guide

Palm Vein guide

Safety

IEC-62471, UL60950-1, EN60950-1

Communications

Gigabit Ethernet, USB 2.0

External Ports

USB 2.0 for External RFID Reader, Keyboard & Mouse etc.

Power

110 ~ 220V AC

Languages

English (customizing available)

Operating Temperature

0 ~ 60°C / 32 ~ 140°F

Operating Humidity

5% ~ 80%

˚C/°F

Management SW

CRUAMS (CrucialTrak Access Management System)

Mounting

Mount on Table Top
Dimensions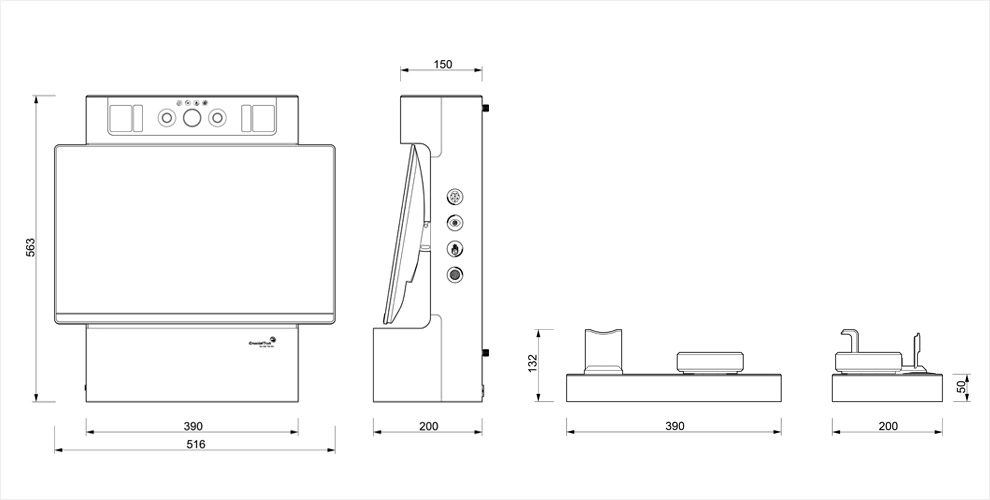 Available Models
• BE-A001: 4 Biometrics and RFID Card Enroll Station
User Guide