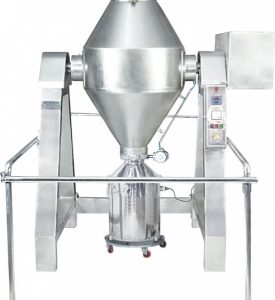 Made of stainless steel, a double cone blender is one of the most efficient machines that aids to mix dry powders and granules homogeneously. It is mainly used to manufacture various products for different industries, such as food, pharmaceutical, and cosmetics to name a few. Along with ensuring appropriate mixing of granules and powder, the pharmaceutical double cone blender equipment from DJA Pharma maintains an optimum homogeneity for effective volume that ranges between 35% to 70% of the gross volume. Being one of the most renowned and trustworthy brands, DJA Pharma is one of the best double cone blender supplier and manufacturer that designs double cone blenders in such a way that while operating the machine you won't get to see any dust generation.
The double cone blender from DJA Pharma is a prominent machine mainly due to its salient features, which can't be found in any other conventional blender. Let's have a look at this machine's salient features to give you a better idea about its functionality and specifications.
Notable features
   In pursuance of having an easy discharge and a homogeneous mixture, the pharmaceutical double cone blender equipment is shaped conically at both ends.
The gearbox and the motor are protected from any kind of overbearing and excessive load by placing the cone in a statically balanced position.
The discharge from the blender machine takes places through a butterfly or a slide valve, while the powder is loaded through a wide opening into the cone.
You can get paddle type baffles on the shaft depending upon the specific characteristics of the product.
The contact parts of the double cone blender from DJA Pharma are made up of SS 304 or SS 316.
You can also get some optional flameproof electricals.
Slant' design (off center) CLIN CONE BLENDER.
In pursuance of minimum handling of material, the machine is equipped with a dust free bin charging system.
Uniform blending, de-agglomeration, and mixing are done smoothly and homogeneously by this blender machine.
Highly trained and experienced professionals skillfully design the interior of the double cone blender at DJA Pharma that helps to eliminate the formation of dead spaces and also facilitates gravity discharge.
If you are in search of high-performing equipment for uniformly mixing powder and granules, then you don't need to look any further. The pharmaceutical double cone blender equipment is manufactured under the supervision of a team of experienced professionals who have an in-depth understanding of the specific requirements of different industries. Applying the latest technology and using quality tested components, DJA Pharma always ensures that their machines comply with international standards.