Visually inspect granules, rice, wheat, tea, fruit, soy bean, corn, coffee, potatoes, tomatoes,  and many other food products as well as medicines.
Inspect:
White & Brown Rice

Barley

Wheat

White & Black sesame

Beans

Black & Green tea

Spices
Oblong tea

Edible brown algae

Seaweed

Boiled & Dried baby sardines

Dried shrimp

Corn

Chemicals
Plastic pellets

Ore

Seeds

Dried sea food

Snacks

Dried granulated powder

Salt
Medicine

Cereal

Wet or Dried food

Limestone

Coffee

Soy beans

Dried grains
Equipped with a full color 3CCD camera, this sorter precisely screens out foreign matter in food by color up to a size of 0.4 mm2 mixed in indeterminate form and falling at an irregular speed
The belt conveyor type color sorters to screen some food which forms are hard to run on the chute. It is possible to screen out pieces of resin, ore or other industrial materials, besides every shape of food.
The first full color CCD camera type color sorter for cereals in the world. It shows its big ability to sort different colored rejects and foreign material, which was hard with a monochromatic camera.
Combination of an ultra sensitive CCD camera and a flat chute realized possible for this sorter to process large volume of cereals.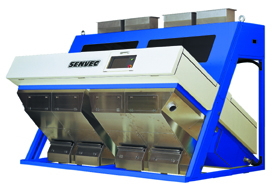 By the high speed belt conveyor feeding, it comes possible to sort the product which doesn't slide down on the chute.
This is the color sorter designed to remove foreign material up to the size of 0.1mm in medicine, mineral containing salts and other granules.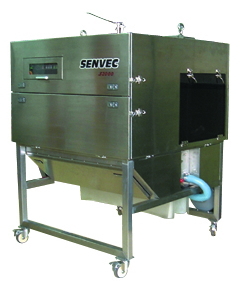 Using a 12000 Gauss magnetic force and a high voltage applied drum, this simultaneously removes metallic or dielectric (like hair or gut)foreign material.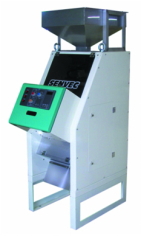 Multipurpose color sorter with easy operation and compact size.
Using a perfectly even air flow, this classifies the products into the four categories: heavy, medium, light and dust.
Using a combination of full color 3CCD cameras and infra-red camera, the Senvec UDB series can detect defects and foreign material not only by color but by light absorption / fluorescence. 
High speed conveyor feeding and simultaneous 2 sided inspection utilizing CCD cameras.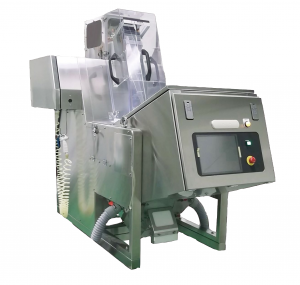 High resolution 3CCD color 2 sided inspection cameras can detect defects and foreign material of up to 50 micron. An optional infrared camera can be installed for even greater accuracy.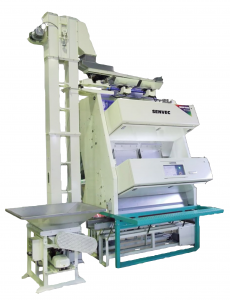 Full color 3CCD cameras detect stalks and other foreign material. Infrared cameras detect foreign material that has similar colors as the good product. 
Simultaneous detection of discolored, damaged grain and foreign material utilizing the color and infrared cameras. Material is fed using an electromagnetic vibrator.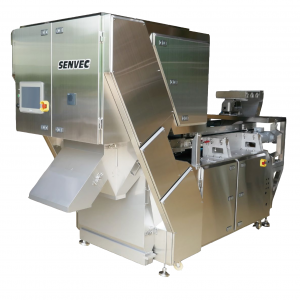 Equipped with full color cameras, an infrared camera and a shape recognition camera; this machine can detect defect up to 0.2 mm x 0.2 mm area.
Adopting an ultra sensitive CCD camera, this sorter demonstrates excellent sorting abilities for eliminating fine fleece, small stalks and red stalks which have never been removed by photo sensor type color sorter.
Complying with tea manufacturers' demand, combined a color sorter and foreign material removing into one machine. Equipped a full color CCD camera and an IR camera, this machine can screen foreign materials in tea leaves.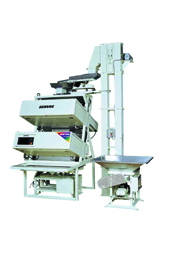 The exclusive sorter for black tea, designed to remove stalks and retain white tips in leaves.
High sensitive Color photo sensor checks each leaf, which runs at high speed, instantly distinguishes its color, and sorts leaves out of other stalks and yellow leaves.
Using the microwave of ultrahigh frequency, the products change their color less and keep the quality for longer time.
The super cutter cuts tea into the size as you need only by changing the mesh.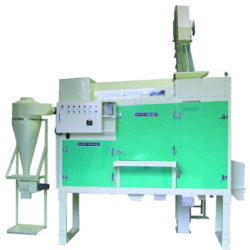 Vibrating shifter, rotary shifter, vacuum suction sorter, electrostatic fiber extractor, and leaf cutter are unified in one unit.