Why Look Elsewhere When You Can Get High Speed Capsule Printing Machine Here
Capsule printing machines are highly sought after in the pharmaceutical industry. Specifically designed to provide fast and high-quality prints, capsule printing machines can perform axial printing on capsules and tablets of different specifications and types. Manufactured as per the set GMP standards, capsule printing machines can be easily configured to suit production of different kinds. Highly beneficial for protecting the capsules and tablets from counterfeiting, capsule printing machines are also of immense help in reducing medical errors. What's best is that these high-functionality machines print data matrix or barcode as well. Easy to operate, versatile, and trouble-free in operation, capsule printing machines have an adjustable speed and clear printing. Available in a varied range of specifications, capsule printing machines are highly demanded because they offer precise printing on all kinds of tablets or capsules, whether small sized, round-shaped, hexagonal, oval sized, sugar-coated, wax coated or film coated.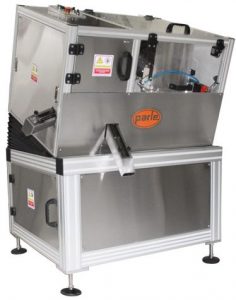 If your search for high speed capsule printing machine has brought you here, know that we, at DJA-Pharma, will leave no stone unturned in providing you with the best possible product. Our different capsule/tablet printing machines such as PPT 25 I, PPT 32 I, Tamprint 60, and Tamprint 300 deliver high output at all times. What's best is that our high-speed capsule printing machines have low noise levels and allow quick change-over.
That said, place your trust in us to provide you with high-functionality capsule and tablet printing machines that are the preferred choice of one and all in the pharmaceutical industry. For more in detail, explore our site right away!